October 22 2017
1
22
/

10
/

October
/

2017
13:26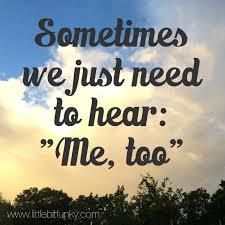 "Me Too" is about a grand disgrace, of men using women, then trying to save face.
By attempting to justify abuses of strength, and defend evil lust that would go to all lengths,
to indulge a wicked craving so vile, so cruel, that it would burn a prized soul, like so much cheap fuel!
"#metoo" is about a full on fight! It's a new revolution to bring a great wrong to right!
It's about all us women finally finding our voice! It's about us finally obtaining the power of real CHOICE!
It's about not letting vile evil win, and not giving up our power, #NOMOREGIVINGIN!
Jujitsu, Karate, Conceal and Carry, Go ahead make my day, you lame Dirty Harry!
While resorting to violence is not my first choice, but whatever I must do to get back my voice,
from these vile usurpers, who've stolen our grace, whatever is needed to put them OUT of OUR place!
Male supremacy, and it's power-lust has NOW got to end! Ownership and Power do not belong just to men!
Men have dominated, and preyed upon our kind for too long, simply because they are blessed to be physically strong!
But that strength was God- given to guard and protect, not to trash and abuse, so guys, what the heck?
Just look at how many of us have cried out, and I know that some people are just using this to pout,
but the most of us HAVE BEEN abused somehow, by men that we trusted, or knew, holy cow!?
Why? How could this possibly go on for so long? Why should we put up with this vile, hateful wrong!
Don't misconstrue, please, there are good men around, but by the looks of this #hashtag they're swiftly losing ground!
We have got to regain Godly manhood somehow, something really must change and it needs to be now!
We need men to become what God has designed, protectors, defenders of right - Good and Kind!
BUT, I am not for the feminist movement. No way! That's reverse chauvinism, bitterness, hate, & decay!
Yet, I will not "submit" to a chauvinist pig! God made me their equal, my authority's as big!
I do not want the men's job, their power nor their place! But I DO want the s.o.b.'s off of my face!
Even in "Church" I've seen power abused, "respect for authority" is the lame excuse used,
to keep women subjected to man's rule of hand, while real Authority needs no lame tricks to command!
It's time that men gave up this prideful lame sin, and became guardians of the real Jewels again!
Your "jewels" are not in your pants you lame fools, but the souls of the ones o'er whom lustful flesh drools.
The last shall be first, so the Scriptures assure, you'd better shape up, our turn's coming for sure!
For "Justice .. for ALL", good men daily die, while "Equality" for everyone's not happened yet! WHY?!
Why are women still victimized, used and despised, what's happened that power has gone to the guys?
Perhaps WE need changing as well, it would seem, so that we would rise up on the wings of this dream,
to see God's design for "Equal though Distinct", and each take our place of authority, and THINK!
We EACH have a PURPOSE in God's holy plan, and TOGETHER there's UNITY for the ONE RACE OF MAN!
But together means helping each other obtain our proper position, not struggling to gain!
And not paying back for the wrong's of the past, can we all just forgive and move on from here?! At last?!
No more reverse racism, or reverse chauvinism, let's all learn to love, and that would heal the schisms!
But until men can love women, and that love is returned, I don't think this planet is going to learn,
what "Equal Rights" means, or what it can do, so, sadly, we'll never be rid of "#metoo".
But as for this girl, you men best get to steppin', I am so over serving, and waiting and schleppin'!
I WILL walk in Authority as God gives me power, this is my time, and this is that hour!
So please stand aside and bow if you must, for this is my country too, and in her GOD I do Trust!
I've been healed of the damage of being included in the lustful transactions of the power deluded!
I'm set free of the doctrines of demons they teach, to keep our authority out of our reach!
I'm awake to freedom purchased at such a great price, and the Anointing that comes from being Discipled by Christ!
So, though I admit I was once on that list, I won't let "#metoo" keep me daunted and dissed.
I'll walk in my dignity, which Christ has renewed, and pity the fool who thinks I will be screwed!
No more raw subjection to abuse of position. No more submission to doctrinal deception.
Authority's God-given, it doesn't need to control. It feeds sheep, doesn't fleece them! That's not how it rolls!
To God-given Authority I'll ALWAYS submit! But that's a free act of my own will, you power hungry twit!
Back off of MY PLACE now, as you've always asserted – to boundaries of righteousness you must be alerted!
No more brow-beating this girl into shame! I'm healed and restored and not part of that game!
No more subjecting me against my own will! That's ungodly slavery, and it's under my heel!
I stand now in Christ, His Anointing and Power, this is the time when the enemies cower!
I stand in Authority, and those men who can't deal, I'll just shake the dust off and turn on my heel!
And walk firmly away, with my head held high. I know who I serve, for ME TOO He did die!
He died for us ALL, and together we'll win – but only if we dare to ditch this divisive sin!
We ALL have Authority in Christ you big goons, so get over yourselves, or go sit on the moon!
It's time for the high horses to be put out to pasture, and for the Body of Christ to finally Mature!
It's time for the UNITY to finally come true, but for only true Equality banishes "#metoo"!