December 7 2016
4
07
/

12
/

December
/

2016
17:24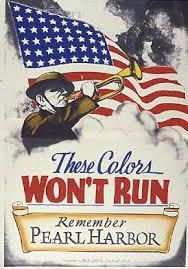 Pearl Harbor day Commemorates forgiveness and love which conquer hate.
That was the choice, as attacks did come, and sent brave soldiers, early home.
That enemy, though undetected, accomplished damage unsuspected;
And consequently, was laid low, such decimation did he know!
No mercy then, to that hateful nation, yet mercy provided their restoration.
A birthday too, of family dear, a son-in-love's reached his 21st year!
Celebrating his day from afar, while preparing for another war.
Navy's finest, soon to be, in training now, but soon to sea!
Married to our daughter Rachel, dear, who though apart would feign be near!
They celebrate his birth today, knowing someday soon, he must sail away.
And as for me, what can I say? I'm blessed and stressed, and faith-stretched today!
The body's weak, but the spirit's strong – I can endure, only HE knows how long!
Praying for deliverance sweet, just spending time at His precious feet!
Until GOD brings, His time, His date, the deliverance dear, which seems delayed.
I'll worship, trust, and try not to fret, though I fail sometimes, He's never failed yet!
So pray for me, and for those who mourn, the passing of parents, and first born,
pray for our nation, that she return, to the God for whose Mercy she should yearn,
That HIS people would awaken now, and turn from worshiping their favorite cash cow...
That His people would awaken now, and turn, back to their God, for whom their hearts should burn!
That His people would finally grow some sense, and stop being selectively, tediously, dense.
We've come back to that middle day, which is seen as a Hump-day since it lies midway.
Mere Hump?! Or mountains in my way? Or a mole hill? In perspective's sway?
I think I must regain perspective, and listen, His Spirit gives directive!
But humps or mountains, obstacles come, and by His might, we conquer some!
And One day soon, our race will end, and we'll see victory, 'round the bend!
Until that day we rest and seek, and thank Him for another week,
to serve and love, and grow and live, to focus on what we can give...
to bask in His great love until we finally grow to BE His will!
Until our strength is quite renewed, and all attacks have been subdued,
We'll Rest in Him, our strength to gain – and when we've rested, fight again!
Soon all victorious over sin, one day with Him we'll finally win!
We'll shout His praise eternally, for there will never be an end, you see;
Except for evil, forever done, leaving only the GOODNESS of GOD and the Son!
So hanging on to what I know, I press on to the calling of the One I love so!
Hang on yourselves, sweet Haverim, until that day we'll rule with Him! <3
SCD 12/7/16