November 11 2016
6
11
/

11
/

November
/

2016
12:40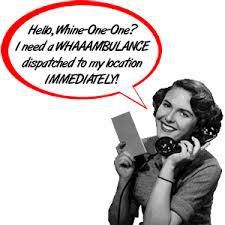 {This article was too long for Over-blog now... they seem to be changing things up! So I will break it down - at their bossy insistence - into two parts! The FULL article is also found on my Facebook page.)
Okay. I do NOT EVER want to make light of ANYONE's discomfort, fears, concerns or unhappiness!
HOWEVER - I am having a REALLY hard time digesting the sheer DRAMA that is being exhibited by the majority of the liberal constituency right now!
Take a chill pill people! What a bunch of massively immature whiner-babies! Disappointment is NOT trauma! And being terrified because you believed a lot of media-hype is mental illness - NOT justifiable traumatic experience! And trust me. I KNOW what TRAUMA is! I understand Trauma better than MOST people!
But SERIOUSLY!? I can not BELIEVE that people are missing work, laying out of school, destroying other people's property, and just otherwise acting like two year olds on crack - ALL because THEIR CANDIDATE DID NOT WIN!!!??
Were you really SO arrogantly sure of yourselves, so spoiled at having your way that now you are in shock from disappointment?!
You claim that you are consumed with FEAR!!! Of WHAT!? NOW you are AFRAID? NOW?!!!!
Please.I am sorry to sound sarcastic - and I am really NOT trying to be insulting. But I AM trying to get my mind around this and make some kind of logical sense out of this disturbing phenomena!
Why would I go to that trouble? Because it is what thinking grown ups DO.
So - let me see if I can get this straight....
When the current administration (and please remember that the person who just lost was PART of that administration) sold guns to people who are clearly our enemies THAT did NOT scare you or threaten your security?!?
And they want to take OUR guns away, so that we couldn't protect ourselves! Now THAT's scary!!!!
And when they let our U.S.Ambassador and some of our brave Marines DIE a brutal death at the hands of our enemies in Libya - and then told barefaced LIES about how that happened - THAT also apparently caused no panic on your parts?!?
And when the rate of aborted - a.k.a. MURDERED - unborn infants reached into the MILLIONS, THAT caused no outcry, no protests, no looting, no gigantic hissy fits?! AT. ALL. Okaaay....
AND - the fact that all of our jobs have been sold to other nations, or have been allowed to be taken by illegal squatters (whom you guys erroneously refer to as "Immigrants", in your politically correct idiocy) - thereby causing our economy to tank, which has resulted in EVERYONE losing opportunities to succeed ..... effectively making slaves out of many by making them dependent on government support (which was paid for - by the way - by taxing, nearly to death, those few legitimate Americans who did find jobs, making sure that THEY could never succeed either) - THAT didn't cause a problem for you either apparently?!
So.... my question is ..... OF WHAT, exactly, are you so terrified!?!
WHAT are you freaking out over!? What is it that you imagine this guy is going to do to us - that hasn't already been done - or at least tried - in the last eight years?!!! You guys are delusional and/or hypocritical to the max!
So you are upset because you think she had the popular vote, and that it is UNFAIR that Trump won by the electoral vote?! Even if you are right, (but there was so much skulduggery on the part of those liberals in power on your "side", who could know?!) - you still need to get OVER it!
Does none of you remember that this SAME thing has happened to Republicans on several occasions!? But when WE complained we were told to suck it up! Grow up! Deal with it! Etc. WE did not get days off of work or school nor did we demand all this sympathy from those around us! We didn't expect or ask for it! Good thing!!!!! Since NO ONE WAS SORRY FOR US!
But now that it is YOUR turn to feel the burn there is a nationwide tumult! Wow. I am stunned. But not to silence!
HOWEVER - just in case you have any REAL fear or concerns - (and any TRAUMA, by the way, is the fault of that demigod, she-devil that you were following, because she worked too hard at assassinating the character of her opponent - and apparently worked some spell over her followers!) - but - that aside - allow me to try to ease your traumatized mind a bit.
But since this site has declared me to be officially long winded, I will do that in the NEXT article!....Stay tuned!