April 10 2016
1
10
/

04
/

April
/

2016
16:25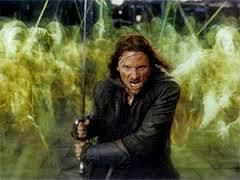 (To the Men of God's Army, Especially in America)
MY Sons!
Stand up Proudly, wield the Sword! Go forth Loudly, in the Name of YOUR LORD!
P.C., Pussy-footing must now end! MY MEN must FIGHT if we would win!
Sin has gained the higher ground! MEN, fight to win, or lose your crown!
Giants now stomp through YOUR land! Take up the Sword! Fight like a man!
To MY Men this message must be sent! Stop playing games, wake up! Repent!
You are in Charge of this vast war! You must fight now, like never before!
MY Women have held this ground too long! The battle is not to the strong!
But it is time to take YOUR stand! To Rise in Power, To Be MY Man!
The time is short, the race is swift; the wounded heal, the fallen lift!
It's time for truth to be revealed, it's time MY Men bound sword and shield,
about their mind, about their groin, protect, redeem before it's gone!
You must be brave, you must be stout! No more of this fearful skulking about!
No more will you hide behind your wives! Rise up MY Men, and fight for their lives!
My Champions you must become, redeem My Truths, My Feasts,, My Love!
The doctrines false, and wine skins old, must be defeated, left to mold!
The wind of MY Spirit lifts your voice! Your time has come, Warriors Rejoice!
Your youth renewed, your strength revived! Let's show the enemy that YOU're alive!
Take back your ground, he's had too long! Take courage men! Let's right this wrong!
Let's make our mark for pure salvation, to save our future generations!
Let's take OUR mountains one by one, in the Name of the Father, the Spirit, the Son!
It is OUR time! It is OUR work! We're with you MEN! You must not shirk!
You dare not hide! You dare not bow! If it's to be done, it must be now!
A call to arms, this exhortation! To save the life of your great nation!
To keep yourselves from great deception! To guarantee eternal redemption!
MY Women will support OUR cause, in prayer and in worship, it must not pause!
But they were not ordained to lead, they're to support, as YOU succeed!
They lead because you've lagged behind! While doctrines, business has clouded your mind!
It's high time MY Kingdom became your goal, and all YOUR cares on ME you'll roll!
A call to arms, MY Fathers & Sons! War's been declared! It must be won!
Not only future generations, but the very Calling of this once great nation...
is on the line! MY Men, will you fight?! The day is dwindling, soon comes the night!
When morning again dawns upon this land –
will it BE great once more - because MY MEN dared to stand?
Your Loving Father-God;
Selah....
(Transcribed by Sandra Carlton Duncan,
in the leading of the Spirit on 4/10/16)