March 8 2016
3
08
/

03
/

March
/

2016
16:25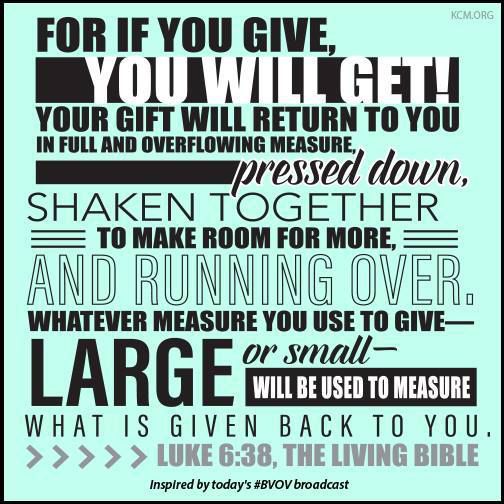 The Art of Giving (Without Being Taken For a Ride)
In order to understand the true heart of giving, one must come to know the heart of the One who "gave it all" to redeem His premiere creation. John 3:16 – 18 has this to say about Him;
"For God so loved the world, that He gave His only begotten Son, that whoever believes in Him shall not perish, but have eternal life. "For God did not send the Son into the world to judge the world, but that the world might be saved through Him. "He who believes in Him is not judged; he who does not believe has been judged already, because he has not believed in the name of the only begotten Son of God."
For God so LOVED that He GAVE...
The way to give therefore, is to give because we love. Ah. But there's the rub. Most of us give more often from a desire to be loved, or even just liked. We give because we don't want to be thought of as stingy or unloving. We give because we don't want to be the bad guy who says no! We want to be perceived as loving, though our heart may seethe with resentment if our giving is not properly acknowledged or reciprocated or isn't rewarded as we'd like.
"....His ONLY...Son..."
God gave the very best He had for our redemption. He did not scrape up some third rate substitution to pawn off on our behalf! He hoped that we would reciprocate! He wanted us back! But He also wanted us to prosper and be in health, which we could not do outside of His love and wisdom.
"So that those who believe... should NOT perish....He did not send His Son to judge, but to save...."
Is our giving redemptive? Or does it, instead, place the other person in a place worthy of our judgment? That is to say, are we truly doing it to save them grief and anxiety? Are we doing it just because we have the money they need, and they don't? Are we just truly glad to help? Or are we sort of making them indebted, a type of emotional slave to us, by putting them in a position to owe us, does giving give us a feeling of power over the recipients, giving us a "right" to judge them? Does it keep us comfortable in our mental paradigm as the "big-hearted victim"? Believe it or not, this syndrome is all too common. The wily flesh is very adept at making anything about itself!
These are difficult questions to answer honestly and forthrightly. Because we have to dig down to the motivation in our hearts to see what lies there. The spirit man, who is like God, is able to truly give, because it is created in, or restored to, God's holy, loving image. But the fallen flesh, which too often rules our decisions and actions is not a giver. It can not do as Yeshua instructed us in His upgraded version of the Torah, (recorded in Luke 6 & Matthew 5), "...lend expecting nothing in return...". That took giving to a whole new level. The flesh always demands or at least expects to get something back – even if it is just kudos! Most of us are glad to "help", as long as we know we'll be repaid. But very few can really give to people who can't, or just won't, reciprocate or pay back the loans which they freely still ask for! So, instead of refusing to continue to enable this usury, the people pleasing, kudo seeking flesh will just continue to "be used". And rather than forgive the debt, and cease to increase the debt. It just takes notes, and abets self-robbery, while collected offenses just lay in there and burns, and we can't or won't let it go.
Of course we should not enable a selfish, unnecessary usury of the good nature of others, or even ourselves! But in setting healthy boundaries for those around us, neither should we forget to stretch a bit for those who are not "there yet" spiritually! The flesh, however can not set healthy boundaries. The flesh loves the drama of codependent entanglements! It loves the pity parties of being victimized, or the feeling of power that having others indebted to it brings! It is nasty insidious mess, in need of deliverance!
That is where the Anointed One and His Anointing comes in – bringing His forgiveness to us, which then enables us with Grace to forgive others. Not only are we to forgive the actual financial debt that was incurred when someone was desperate enough to borrow from us, And then found that their circumstances did accommodate their paying us back. But we are to also forgive their moral weakness which has rendered them irresponsible, careless or selfish enough to take unfair advantage of our willingness to give.
Forgiveness of debt does release that person from indebtedness to us, which seems somehow unjust on a level. But it also releases us from unrealistic expectations, and keep us from developing roots of bitterness, which will eventually defile God's dwelling place in us! We wouldn't want our inability, to give from the right motivation, to drive God's presence and blessing out of our lives! But giving and then holding grudges against the one who didn't treat our giving with the responsibility or respect we expected, or feel that we deserve, does begin to cramp our freedom and steal our joy! It can produce a root of bitterness, that is forbidden to be cultivated by God's people.
It is said of Yeshua that it was "for the joy set before Him" that He gave the last full measure for our redemption, and suffered the agonies and humiliations of the cross! The writer of Hebrews records it this way:
"...fixing our eyes on Jesus, the author and perfecter of faith, who for the joy set before Him endured the cross, despising the shame, and has sat down at the right hand of the throne of God. For consider Him who has endured such hostility by sinners against Himself, so that you will not grow weary and lose heart."
"That we might not grow weary and lose heart..." Isn't that exactly what happens when we come to a place that we feel people are taking advantage of us? Especially if it happens to be a repeat performance! And yet, HE was willing to give everything – His comfort, His time, and even His Life – to and for us, knowing full well that we could never come close to repaying Him! And the only way to save our souls from eternal judgment is to accept this free gift, which makes us most embarrassing debtors! But in receiving His forgiveness for us, we also must receive and extend the grace to forgive those who "trespass against us", or rip us off!
One thing which is helpful to remember in this situation, is that we can never out give God! He sees our true giving, and rewards it, whether the person we helped properly acknowledges it or not! Giving is His method of increase and blessing for His people, if it is done from His motivation of LOVE. Loving God and others more than we love ourselves is said to produce utter fulfillment of the Law, and complete Yeshua's mission of returning us, God's stolen property, back to Him!
Giving is is a great gift. It is the gift which keeps on giving! Ironically enough....
Selah...
SCD 3/8/16