March 9 2016
4
09
/

03
/

March
/

2016
15:58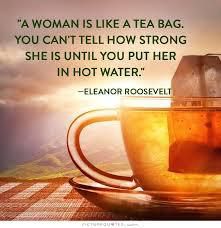 A strong cup of tea is much better than weak, one can be strengthened, and still remain meek.
But the hotter the water, the stronger the tea! Which is why the enemy knows that he can't tread on me!
It's why people of faint heart oft turn away, afraid of what honest or outrageous thing I may say!
It's why sometimes enemies outnumber friends, and why socially I seem to live out on the fringe.
My tea is quite strong, not too much sugar-coating, and when it comes to God's Truth, I'm not too big on voting!
Obedience to His Word has been my life's goal, maybe that's why His blessing has delivered my soul!
So if I'm too strong for you, just blame the hot water, but don't stand in judgment until you've endured hotter!
SCD
3/8/16
In honor of national Women's Day....