December 17 2015
5
17
/

12
/

December
/

2015
15:51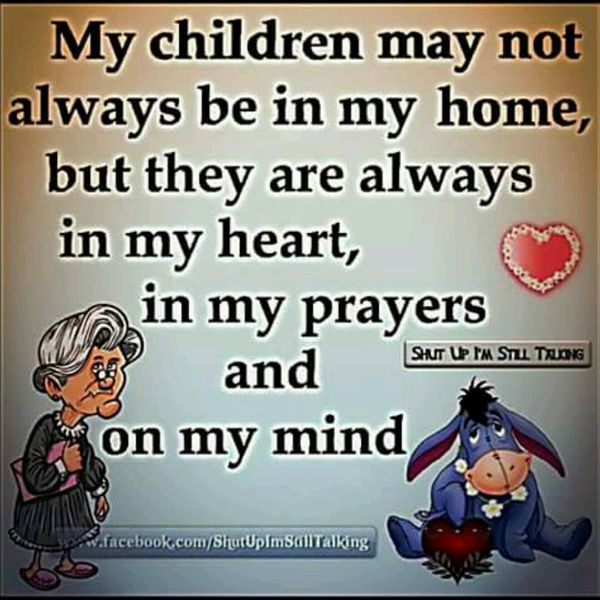 Empty Nesting? Gone, but not Forgotten, and Certainly Not Mourned!!!

While I like the sentiment expressed here, in a meme that was posted, I do not like the imagery attached to it! If I could recreate a meme to go with this sentiment I would definitely lose the pining granny and the Eeyore! I might put instead an energetic eagle flinging unnecessary baggage out of her nest? lol


I have LOVED being a mom and homemaker! But I refuse to be one of those pining "empty nester" types! It is taking some adjustment to get used to not being "needed" so much! That's for sure! And the temptation to lay down at this point is huge. I am a bit frayed and grayed! lol And SO NOT looking forward to having to redesign this life, one more time at least, and try to recoup the parts of me that I sort of neglected which I shouldn't have! HOWEVER.....


I do NOT plan to wile away the final years of my life languishing over the past! I got the good out of those years and enjoyed most of it immensely! (*Though, regrettably, I was not always in touch with, nor able to fully express that enjoyment as I would have wished to! But that is water under the bridge, which I will not spend my time trying to fish in!)


NOW IS NOW - and it is time to stash the fond memories, discard the not so great ones (since what I needed to learn from those has been thoroughly extracted) - and MOVE ON toward the NEXT great adventure!


My life so far has been a series of mini-careers/ministries. So I am excited to see what this next, and possibly "final", earthly adventure into the entrepreneurial world will bring forth, and what kind of "ministry" it will demand!? What do I mean by "mini-careers/ministries"? Well, let's see if I can explain...


For starters, most of my single, young adult, years I was fully enmeshed in the ministry of "helps". Not too surprising, since the name my mom felt led to pick was "Sandra Gail" - the origin of which, being combined, means Joyful Helper of Mankind! Boy did she nail that one!! Except it was sort of "calling those things which are not as those that are" kind of thing! I mean, the helps part came easy enough,but the joy had to be cultivated out of hard rock! The Eeyore was totally appropriate in those early years...had to lose those brown-colored-glasses! But the JOY has gradually replaced the OY! So here we go!


Over those youthful years I zealously and tirelessly helped the various pastors with whom I was affiliated clean their church buildings and homes, I helped them get out the weekly or monthly newsletters, I helped in praise and worship, nursery duty, missionettes and youth as well - on an as needed basis. I helped facilitate, cook for, and clean up from myriads of functions. I helped church members with child care on various levels. I helped elderly with projects yard work, or whatever. I helped find homes for homeless people.....Etc. Etc. Etc.! And I usually worked a job, plus had my own business wherein I actually got paid to clean as well - what a concept! And all of this continued, and increased as I transitioned into a newly married woman, and Gene and I took on all of these jobs together! Those years spanned about 10 years, counting the single years, and the "married without children" years altogether.


Then I transitioned, as the number of children steadily grew, into a mostly "stay at home mom" - who, by the way, hardly ever stayed at home! lol - Funny how that works! The child-bearing years did stretch on - I was either pregnant or nursing for about 15 years! During those years my activities revolved around taking children to events, and my "helps" became facilitating those events - plus STILL helping facilitate events and Church related functions as well - in my imaginary spare time! While dragging around multiple levels of car seats, and diaper bags, and trying to home educate them as they each grew into those stages. And then people dared to judge my house-keeping! The nerve!


But as my motto was, and still is, "People before things", the house-work frequently took a back seat to helping others - whatever they needed help with! In fact, I actively chose to carefully and deliberately lay aside my perfection orientation needs where neatness is concerned so that my kids could be kids within the limited bounds of our always too small living quarters!


And I have to admit it has never, yet, fully recovered to the preferred level. (Since I am still outnumbered and all of their genes did not include a proclivity toward excessive neatness! Ugh. but it isn't over yet!) So I consequently adopted another motto with which to comfort myself - "When Jesus comes, It's all going to burn!" lol Meaning that I should focus on that which will NOT burn - and I believe I have succeeded at that!


As the children each matured at their own rate, becoming self-reliant teens, thus freeing me up a bit, I then took on elder care as well! Glutton for punishment? I prefer to think of it as preparation for blessing! My Dad was winding down his stay here on earth, and Gene's Mom began to experience some serious health issues! The elder care career turned out to be about a 15 year run, altogether.


Now the children are steadily graduating out of my Home Academy, and our aged parents have graduated from this life into the next - so I am finding myself with more and more time on my hands! But it is significant to note that by the time Emma graduates in 2018 I will have been home educating for 25 years!


So...yeah... I have been a busy gal! One might note that the numbers when added together are more than I am! This is because frequently those "careers/ministries" overlapped! I have been the poster child of multi-tasking! But my life has been rich and full and blessed by love, with both laughter and tears! We have not lived as "well" as some, materially speaking perhaps, but we have LIVED to the fullest extent! And have done without nothing that was vital to our ultimate well-being!


God has led each step of the way! Providing a mate, when my family was sure no sane man would have me. Providing children when abuse had ruled that out. Providing a joyful, restful, calm against all odds. Providing everything these people, whom He gave us to steward and care for, really needed - to grow, mature, and develop into who HE wanted them to be!


And I have no doubt that HE will provide the direction and means for this next grand chapter in the story of Duncanshire! If the LORD tarries this story will be an Epic Tale to rival Abraham! We may indeed be our own mini-nation before time winds to an end. Let the Adventure continue!


Stay tuned, Chavarim!