August 5 2015
4
05
/

08
/

August
/

2015
15:07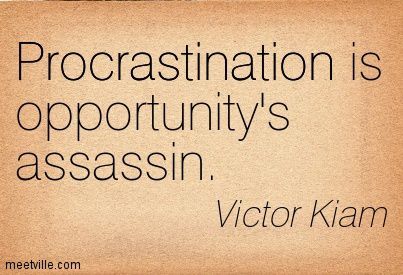 A tomorrow which will never come, a promise never kept,
another vow broken to ease succumbed, a waste of time, a will inept.
The the work that's never, ever, done, a debt that's never paid,
and all the wishing, longing, drone, won't recoup what it's delayed!
The simple truth that went untold, the diamond never pressed,
A fire, once hot, that's now grown cold, meant to refine the gold distressed.
An opportunity which has passed by, another day just gone to waste,
while idly we've just let time fly, too apathetic to make haste.
While another soul dropped into hell, lacking efforts meant to save!
Another one, who'd have done well, had we but stepped 'twixt them and the grave!
How many days will we let rot, in apathetic self-regret?
How many do we think we've got? And will we get our work done yet?
We can not languish in defeat, nor rest on laurels of the past!
The harvest ripe, of winter wheat, It's time we got to work at last!
So let's not languish life away, putting it all off - "until tomorrow",
For if our life should end today, we'd meet our God with regret, with sorrow.
Then let us make the most of time, each moment maximized;
we dare not waste this precious life, He's purchased at such price!
We dare not waste His sacrifice, but rise to meet it, come what may;
Let's build the priceless edifice, that might lead others to The Way!
Yes! Let's lift high the cross of Christ, who gave it all to ransom few,
because the many would not come, will that dense number include you?
He stands, arms open, Grace outstretched, to gather in His wandering sheep,
who, stubbornly seeking ease, poor wretch, accrue sorrows as they sleep!
For one day, sure, we'll meet our LORD, then friends what will it be,
The blissful Joy of Life's reward, or misery for eternity?
The choice is now, the choice is clear, "Life" by our effort, "Death" by default!
The end is clearly drawing near, Our dawdling should now desist, yea, Halt!
Let us procrastinate no more! It's both ungrateful and unwise!
Let us instead, work hard to store Eternal Blessings, while time flies!
Now may this warning shake the dread, of listless yearnings unfulfilled!
May Hopes rekindle from the dead, which apathy and doubt have killed!
So that we'll gladly face our LORD, not shirking back in shame or fear;
Soon we'll be facing our reward, what will we "earn" from our time here?
Selah!
SCD 8/5/15